From new products, to new employees to new customers you can find it here. If you would like to know about these types of events and more, sign up for our e-newsletter and you'll get this information in your inbox.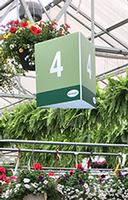 From: New Products
Tuesday, February 28, 2017
With customized Greenhouse Aisle Markers, you can use numbers, text or both to help your customers find your products more easily.