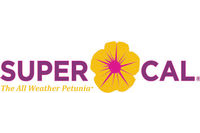 SuperCal® Petunia
http://www.supercalpetunia.com
Morgan Hill, CA | Valued client since April, 2013
Super Color, Super Easy. Part petunia, part Calibrachoa, SuperCal® combines the best of both to bring you incredible, easy care color.
Known for its large vibrant flowers and superior outdoor performance, SuperCal® is the ideal combination of petunia and calibrachoa. For the grower, SuperCal is early blooming, pH tolerant and ideal for cold-frame/low-energy production. For the retailer, non-sticky foliage provides a cleaner look, strong roots keep leaves greener under stress, and crisp vibrant flowers provide higher sell-through. For the consumer, exceptional garden performance under all kinds of weather - from unexpected late frosts, to rainy-wet cycles and even through the high heat of summer. SuperCal® delivers value.
Clarity Delivered...