What's New
From new products, to new employees to new customers you can find it here. If you would like to know about these types of events and more, sign up for our e-newsletter and you'll get this information in your inbox.

From: Recently Completed Websites
Monday, June 5, 2017
Homeowners can now review, rate and submit pictures of their favorite Kansas plants right from their garden using theri smart phone. Site visitors can browse the plant library or search for specific plants or plants with selected characteristics. 

From: New Products
Friday, June 2, 2017
Holly Springs, NC— June 1, 2017  — GardenCenterMarketing.com announced immediate availability of new Holiday and Welcome signs for Independent Garden Centers (IGCs), enabling Garden Centers to use holiday specific 'welcome signs' for as little as $18 (through June 30, 2017).

From: New Customers
Tuesday, May 30, 2017
American Farm's new website went live in March, 2017 and they are already seeing results. They came to Clarity Connect due to our extensive experience in serving the horticulture industry in general, but wholesale growers in particular.
From: Company News
Thursday, May 11, 2017
Nearly 500 new plant records have been added to gardencentermarketing.com/Plant-Database in the last 30 days.

From: Company News
Monday, April 17, 2017
We test all of the products we sell on GardenCenterMarketing.com regularly. We started UV Resistance Testing on March 24, 2017.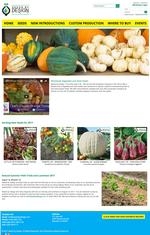 From: Recently Completed Websites
Wednesday, March 1, 2017
Seeds by Design, out of Maxwell, CA, has a new responsive website, https://seedsbydesign.com/ to promote both their standard seed offering as well as new introductions and custom production.