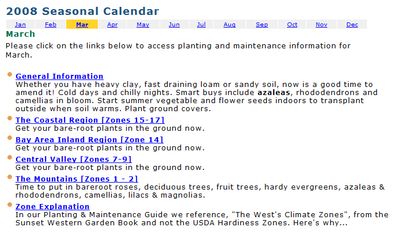 Within each month, you can add unlimited categories or topics. Clicking on the category/toic opens the corresponding detail page as shown in the next image.
Monthly (Garden) Activities Calendar
You can add an unlimited number of activities for each month. The current month will display the current month, but the user can click on any of the other months to see the corresponding activities.
One of our customers uses this tool to help reinforce what their nationwide, remote sales force should be focused on each month. They list their various client types and highlight the typical sales opportunities for that client type by month.
Tools In Action