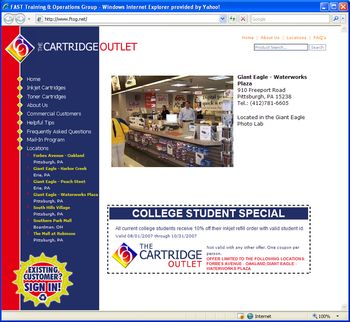 The Cartridge Outlet in Western PA, uses the Coupon Creator to create different coupons for different locations to target the local customer who shops at their various retail locations.
Online Coupon Creator
With this tool you can quickly create online coupons to your site that have the same look and feel as your website.
The Coupon Creator lets you quickly create fantastic looking coupons for your website. Simply enter the data in the approvpriate fields; save and publish your work and your new coupon will be available immediately on your site.
Clicking on the coupon opens a print dialog box so it can be easily printed.
The fields available include:
| | |
| --- | --- |
| | Category |
| | Coupon Name |
| | Full Text |
| | Start Date |

| | |
| --- | --- |
| | Stop Date |
| | The Fine Print |
| | Image |
Tools In Action
You can add a bar code into the image slot of this tool and create a scannable checkout to speed the checkout process and to better track the use of the online coupons.