User Manual » Plant Database Manager » Genus Overview Editor »
Genus Overview Editor - Characteristics Tab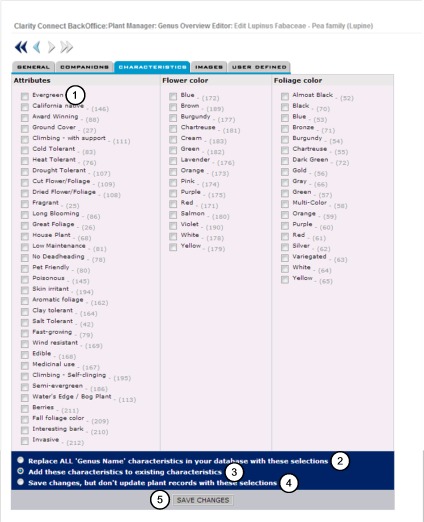 1) To add Characteristics:
Click on the checkbox next to the characteristic under the class that you would like to add.
Note: Characterists are created in the Plant Characteristics Editor.
2) Replace ALL 'Genus Name' characteristics in your database with these selections:
This will replace what you currently have in your database if you feel these selections will be more complete.
3) Add these characteristics to existing characteristics:
For example you have some characteristics that are very specific to a plant already set and you would like to add these to those.
4) Save changes, but don't update plant records with these selections:
You will save these selections but they will not be updated in the plant records.
5) Click 'Save Changes'